Disclosure: "This post may be sponsored or contain affiliate links, which means I may receive a small commission, at no cost to you, if you make a purchase through a link. See my full disclosure here."

As I was working away at the Elliptical I would see through the glass wall this amazing class using Barbells! It looked like so much fun!! I could hear the motivating music even through my headphones…
December 30, 2013, I finally got the courage to step into my very first BODYPUMP Class! And I was HOOKED!! And now I do BODYPUMP at Home with their On Demand APP!!
(So if you think I say Feeling AMAZING is a new things LOL I've said it for a long time! haha)
A BODYPUMP review!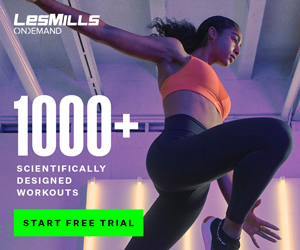 It's one of the most popular group fitness classes in the world, and it's my favorite workout. Let's talk about everything you need to know about the LES MILLS BODYPUMP workout, including what is BODYPUMP and what to expect in your first BODYPUMP class.
(And by the way, you can try BODYPUMP at home for free on the Les Mills On Demand streaming service. Head to this link to get your free 30-day trial.)
What is BODYPUMP?
BODYPUMP™ is THE ORIGINAL BARBELL CLASS™, the ideal workout for anyone looking to get lean, toned, and fit – fast.
BODYPUMP is a full-body barbell workout using light to moderate weight with lots of repetitions. With motivating fun music that is choreographed to the moves. This really helps with the flow of the moves. It is available in 55, 45, and 30-minute workouts.
How is BODYPUMP Set up?
A 55-minute BODYPUMP class has 10 tracks. Each new workout has the same standard format so you know what to expect next, beside the moves, music. No matter, if you are going to an in-person class or working out On Demand BODYPUMP, will always go in this order I've listed below. The moves are just some of the examples that you can expect during that track.
1. WARM-UP-Full body warm-up getting you ready for a great workout.
Moves: Deadlift, Deadrow, Triple Deadrow, Upright Row, High Pull, Clean & Press, Squat Mid Stance, Squat Wide Stance, Lunge
2. SQUATS
Moves: Squat Mid Stance, Squat, Wide Squat, Squat with Calf Raise, Plate Front Squat, Plate Front Squat with Calf Raise, Overhead Plate Press
3. CHEST
Moves: Chest Press, Chest Fly, Bench Push-ups
4. BACK
Moves: Shoulder Roll, Deadlift, High Pull, Clean & Press, Deadrow, Double Deadrow, Wide Deadrow
5. TRICEPS
Moves: Bench Tricep Pushup, Kneeling Overhead Tricep Extension, Tricep Dip, Tricep Extension, Tricep Press, Overhead Plate Tricep Extension, Bottom Half Tricep Extension, Tricep Dip, Pulse Tricep Dip, Tricep Press Pullover
6. BICEPS
Moves: Bicep Curl, Bicep Row, Mid-Range Pulse, Hold
7. LUNGE
Moves: Bench Plate Front Squat, Bench Backward-Stepping Lunge, Bench Backward-Step Tap with Single-Arm Plate Row, Overhead Plate Press, Hold, Barbell Lunge, Lunge Pulse, Plate Front Squat
8. SHOULDERS
Moves: Standing Side Raise, Standing Plate Forward Raise, Standing Rear Deltoid Fly, Standing Side Rotator Raise, Pushup, Mountain Climber
9. CORE
Moves: C-Crunch, Shoot Out, Slow Hover Tap, Spider Pushup, C-Crunch Pulse, Pulse Plate Lift, Hover Foot Tap, Side plank,
10. COOLDOWN
Moves: Kneeling Hip Flexor Stretch, Kneeling Hamstring Stretch, Standing Quadricep Stretch, Standing Chest Stretch, Standing Upper Back Stretch, Shoulder Roll
You don't need to know what any of the moves are to be successful in BODYPUMP, because the instructor (On Demand or in-person) will describe what you need to do with your body for each move during class. Once you start going to class regularly, you may start to remember the names of the moves and even start to learn which muscles each works.
EQUIPMENT FOR BODYPUMP?
To do a BODYPUMP workout, you will need a barbell with weight plates, a bench-top with risers, and a mat. During the chest and tricep tracks, lay back on the bench-top. If can easily modify this workout to us hand weights instead of a barbell. You can also just lay on your back on the floor instead of using a benchtop. I also like to wear workout gloves they help with gripping the bar, or if your hands get sweaty plus help prevent calluses from forming on your hands.
Note: If you are going to a BODYPUMP Class at the gym they will have all the equipment you need! Just bring your gloves, water bottle, and a great attitude!
For those doing BODYPUMP On Demand at home here are my favorite suggestions on what equipment to get. You can also look on Facebook Marketplace, garage sales, or thrift stores.
LES MILLS has their own line of equipment that is just amazing and start of the art. You can check them out here.
Check out my favorite Barbell here

Check out my favorite Hand Weights here

Step Here
Check out my favorite Mat here
Workout Gloves here
What are the benefits of BODYPUMP?
BODYPUMP is a full-body barbell workout that will burn calories, shape and tone your entire body, increase core strength and improve bone health. You will tone and shape your entire body, without adding bulky muscles.
What to expect during your first BODYPUMP workout at the gym.
Arrive early to class. That way you have plenty of time to get the equipment you need and to talk to the instructor. They will help you get set up!
Find a spot where you can see the instructor. You don't have to be in the front row but don't hide in the back.
Start out with small weights! Even if you have been lifting for a while you are want to go light for your first couple of classes.
Watch the instructor and listen to their cues on what move is next and proper form.
Take breaks when needed and drink water throughout the workout.
Please don't worry about the people around you. Nobody is looking at you. In fact, most people are so busy worrying about themselves they won't even glance in your direction.
Have fun!!
What to expect during your first BODYPUMP workout On Demand
You will need your own equipment listed above.
Make sure you have a small space cleared away to workout in.
Grab a water bottle
You will need to download the LES MILLS On Demand App if you haven't already.
Find the BODYPUMP Track you wish to try they have a beginner intro class I recommend. Walks you through everything at a slow pace so you get a feel for the basic timings, tempos, and techniques.
Press Play and follow the instructors they will coach you through how to do each move!
Have fun and enjoy!
The only thing you need to do now is to get yourself to a gym or download the LES MILLS On Demand App and start working out!
(And by the way, you can try BODYPUMP at home for free on the Les Mills On Demand streaming service. Head to this link to get your free 30-day trial.)
Are you ready to try a BODYPUMP Class?
Question's of the day
What are you favorite workout song?
When you workout at home do you wear shoes or go bare foot?
What is your go to after workout snack?
Hi!! I'm Kristin McConnell, creator of Innovative Health & Fitness, I am an Elite Fitness Trainer and a health and lifestyle blogger! I am a wife to my Amazing husband, Mom of two fabulous kids, and two dogs. We try our best to live a happy and healthy life.